Brora Fair Isle Vest Stone 100% Wool
Regular price

Sale price

$163.00
Brora is known for its Fair Isle styles and its passion for creating interesting, colourful knitwear, so they have brought three more variations of their nostalgic, scoop-neck Wool Fair Isle Tanks! Cleverly combining up to seven vivacious shades, their tanks have been a massive hit with our customers, especially those looking to jump on the tank-over-a-dress trend this year.
true to size
regular length (average 58cm)
scoop neck
sleeveless
100% pure new wool
hand wash
made in Portugal
studio model's height 5ft 10, wearing a size UK 10/US 6
Please refer to the label for instructions on how to care for your garment.
Hurry, only 2 items left in stock!
Share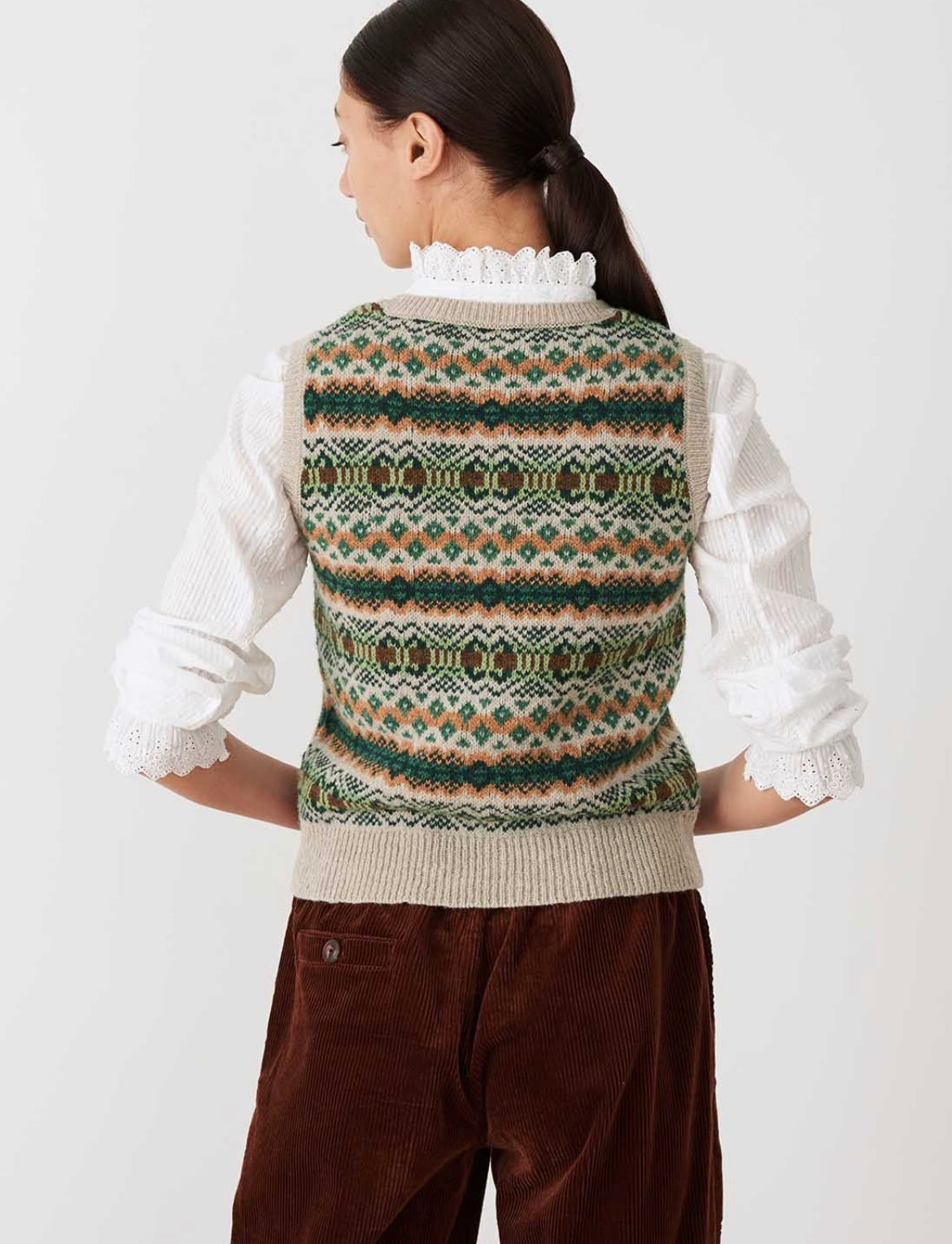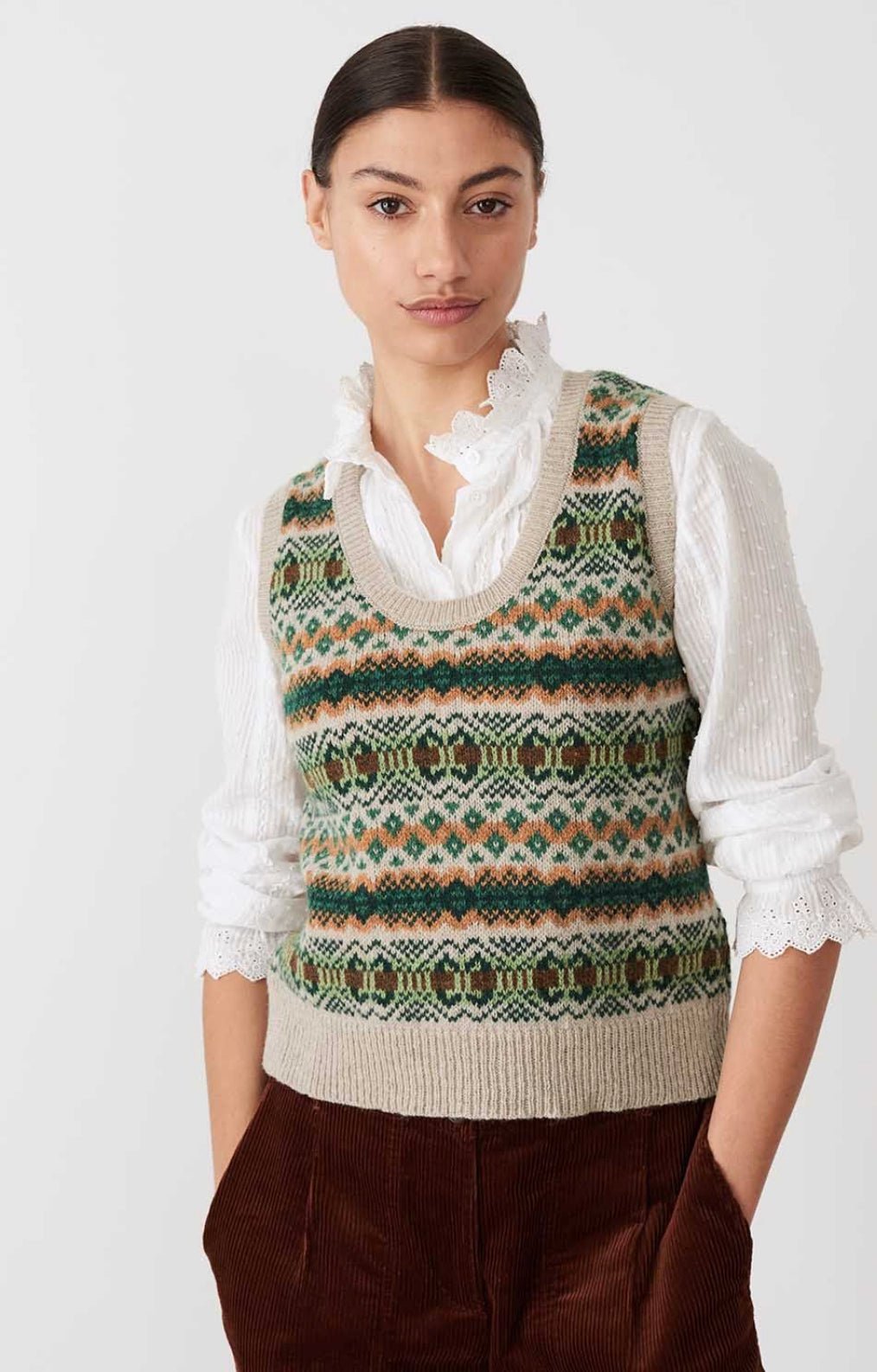 FAQs
How long will it take for my purchase to be delivered?
How do I care for my product?

THROWS:

Do not wash your throw in the washing machine. The heat can cause shrinkage, and the spinning can cause loss of shape. 
This product is not suitable for bleaching. 
When ironing this product, use a cool setting with a max temperature of 110 degrees Celcius. 
Cleaning this product will require professional dry cleaning.  

BEDDING BLANKETS:

Wool is a 100% natural fibre and with the right care our blankets and throws can last for generations. We recommend dry cleaning.

KNITWEAR:

Please refer to the instructions on the label for care instructions.

How easy is it to look after knitwear?

It's not that difficult to look after your wool. It may not be as simple as other garments which can be thrown in a washing machine, but it's not as hard as many believe. If you follow the instructions carefully you'll discover that it will be worth the extra effort.

How do I wash my cashmere?

Most of our wool is hand wash unless otherwise stated. Do not wring or rub as this will stretch your garment. Rinse thoroughly but carefully and dry flat on a towel to help soak up any excess water.

How do I store my cashmere?

During the warmer months, chances are your knitwear won't be worn as much as they were during the winter. Because of this you need to ensure that they are properly stored and protected. Always ensure your cashmere is clean before storing.
Do you offer exchanges?

Yes, we only accept exchanges, not refunds. If you need to exchange a product, you will be charged an additional delivery charge. Please take the time and choose carefully. 😊
How do I get in touch?

You will see a 'Chat' button on the bottom right of the screen. Press this to chat with us, if we don't reply straight away, you will get your answer emailed. Alternatively, contact Polly at 0211862784 or polly@exquisitewooltraders.co.nz
Where are the products made?

Most of our wool products are made proudly and exclusively in the UK.

We source from the highest quality mills from which we have had decades of family ties. Learn more about our story here.
What are the sizes for the products?

185cm x 140cm approximately for tasseled Merino and Pure Wool throws & 115cm x 180cm for blanket stitch throws.

Throw (115x180cm), Single (180x230cm), Queen (230x255cm), and King (255x280cm).